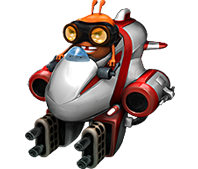 Description
Edit
"We were born to fight! Our ship was built with two cool antennas to help us sense danger and eliminate it." Swift and deadly aircraft. Specialized on taking down defenses.

Tips:

Great on defence, easily the best unit to load into a bunker apart from Colossus.
Their speed and flight allows them to get to an enemy very rapidly.
They can raze a entire planet in a matter of seconds.
Even though their weapon is a single-target weapon its rapid-fire nature allows groups of them to mow through infantry and other light units very rapidly.
They have the longest range rating of any unit.
Like the Wasps, they do not sit still when attacking (which was probably done on purpose to avoid making them overpowered).
They attack via strafing runs on a target, which means they will fly a certain distance past the target while they slow down, turn around and then go for another pass, gradually "overshooting" less and less.
Be Aware! they can quite easily trigger bunkers even when attacking buildings on the very outskirts of a base, but given their speed and HP a large squad of these can still do serious damage before falling.
Interestingly enough, the absolute best defence against a large squad of Falcons is a bunker filled with more Falcons.
Weakness are Bazookas, Missile Launchers and Colossus.
With massed numbers they'll tear-up even the toughest defenses.
You will need your Star Base on Level 5 to get them.
Basically a flying version of a Starlinator.
Expansions
Edit

To see detailed info of how to unlock each level, visit Troop Level Unlocks
on Laboratory's Page.
| Level | | | | | | | | | | | |
| --- | --- | --- | --- | --- | --- | --- | --- | --- | --- | --- | --- |
| 1 | 10m | 31'000 | 1'000 | 300 | Single shot | 0.66/Sec | Defenses | All Units | 2.5 | 250 | 40 |
| 2 | 10m | 55,800 | 1'100 | 350 | Single shot | 0.66/Sec | Defenses | All Units | 2.5 | 250 | 40 |
| 3 | 20m | 83,700 | 4,600 | 110x10 | Single shot | 0.66/Sec | Defenses | All Units | 2.5 | 250 | 40 |
| 4 | 20m | 111,600 | 4,600 | 120x10 | Single shot | 0.66/Sec | Defenses | All Units | 2.5 | 250 | 40 |
| 5 | 20m | 145,100 | 5,200 | 120x10 | Single shot | 0.66/Sec | Defenses | All Units | 2.5 | 250 | 40 |
| 6 | 20m | 173,600 | 5,200 | 130x10 | Single shot | 0.66/Sec | Defenses | All Units | 2.5 | 250 | 40 |
| 7 | 20m |  ? | | | Single Shot | | Defenses | All Units | | | |