DescriptionEdit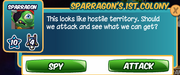 Sparragon is one of the three main Antagonists in the game(being the second main one). He attacks you at the beginning of the game, on the "Save The Starlings" mission chain. You must destroy Sparragon 's Star Base to obtain the Delta Key (when prompted by the mission), which you will need to rescue some Starlings after destroying Firebit's Star Base later on. After that, you can attack him as many times as you want, but per attack, his planet will become stronger!

Tips:

The best way to take advantage of Sparragon's star base in every battle is to have 15-30 Falcon's ( fully upgraded )
Ad blocker interference detected!
Wikia is a free-to-use site that makes money from advertising. We have a modified experience for viewers using ad blockers

Wikia is not accessible if you've made further modifications. Remove the custom ad blocker rule(s) and the page will load as expected.